Frame by Frame Productions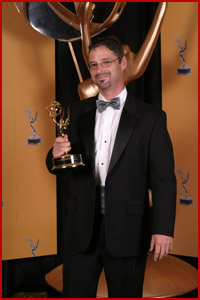 I went to college thinking I could somehow be on TV...but it didn't take me long to figure out that I was supposed to be...and would RATHER be IN TV. And ever since then I have been shooting video.

Keep it simple. Work with people you trust. Know what it takes to gather good images and audio. This is pretty much how we've been able to stay in the business for almost 20 years. There are a lot of talented shooters out there...and there a lot of hard working camera people as well...the combination of both can be elusive...but it is possible...because we're it! We also take a great deal of pride in being able to achieve beautiful images - whether b-roll or head shots - without bringing an army. It amazes me the amount of equipment I see crews using...and the number of people it supposedly takes to shoot something relatively simple...and the product simply doesn't reflect the time, money and effort. We're different. Me and the people I surround myself with know how to do several things well...and we actually enjoy doing several things...which streamlines the entire shoot...and tends keeps a budget on budget. If the shoot is too big - which hasn't happened yet - then I will gladly refer you.


Select image for larger size
Notre Dame Hockey outdoor game Soldier Field (2013)
21st consecutive ACC Men's Basketball Tournament (2013)
Bryce Harper interview set up – 2 Canon 5d MarkII's, Mark III on a slider, go pro and the kitchen sink!
Honduran grade school scene
Cairnes, AU
Market Scene - Uganda
Ugandan kids are very curious!
Uganda crew hard at work
Promontory, Utah
Indianapolis, IN
North Carolina Mountains
Australia Interview
ACC Men's Basketball
Tournament
Arena Football

ACC Baseball
USAFA
Beaumont, TX Football
Workin' the Crowd

Another intangible is simply the ability to get along on a shoot. Chemistry is paramount. In other words, we aren't up tight! We love working, doing a great job AND making a shoot as fun and relaxed as possible. There are only a few things we can truly control...one of those is being professional. We and I have been called many things over the years but unprofessional isn't one of them!

Just check us out and let us know how we can meet your high-end video needs.